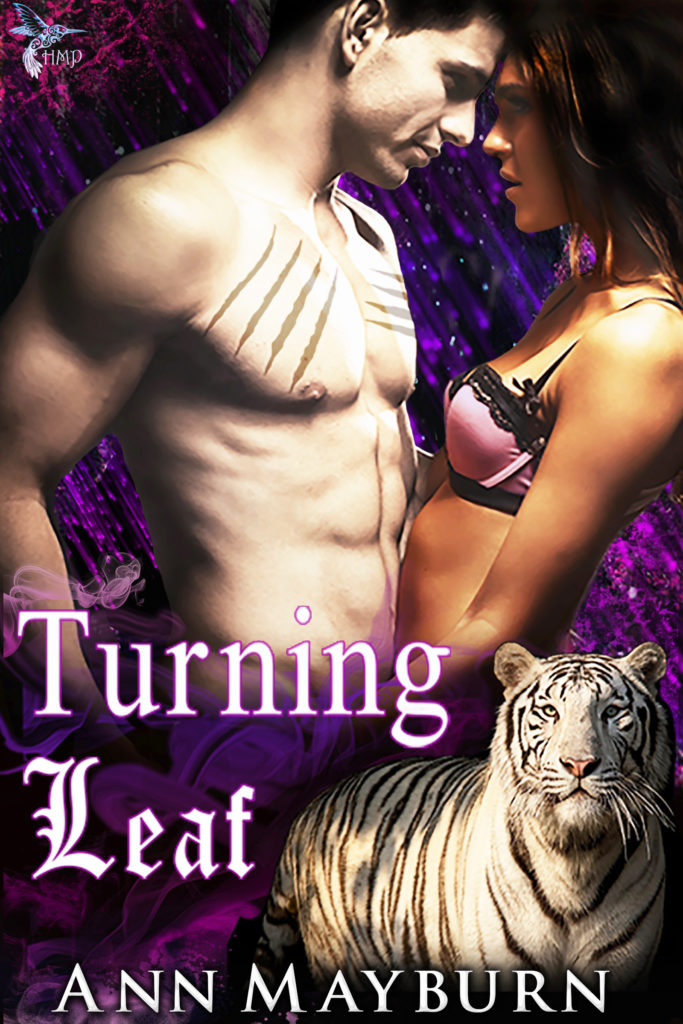 As a little girl, all Leaf Hatathli dreamed of was growing up and having a family of her own, but fate had something else in mind for her. Instead, she's spent her life as a mercenary working for the Goddess, acting as her hand of justice in a world torn apart by the reappearance of magic. It's a lonely business, and Leaf had given up on the idea of ever being someone's beloved. After all, who could love a woman who's possessed by a sex demon? When Mir DePaul, Alpha of the Shiraz Pride, is captured by slavers he never expected rescue to come in the form of his true mate. And he certainly never expected his mate to be a Shadow, a human sharing a body with the spirit of a demon. He shares his body with his tiger spirit, and they both know their mate when they see her. Even if she refuses to believe it. They'll do everything they can to convince Leaf and her demon that their love is real…as soon as they escape the contingent of death wizards hunting them down. Everything has a price, and Mir will do anything to keep his mate safe while she tries to save the world from an ancient evil that threatens them all. In a world full of sex witches and lust demons there is a lot of hanky panky going on, so fair warning you may have some clutch your pearls, or vibrator, moments.
So when Ann Mayburn brings out a new book i jump to it. Doesn't matter what she turns her had too, weather its a paranormal/shifter read to MC or her submissive wish list reads. Ann Mayburn has such an amazing imagination and story telling i will always devour her books & Turning Leaf was no exception.
Within this new world of the paranormal & magic, Leaf is a Shadow which means she has a demon spirit within her body and her particular demon feeds on sexual energy!!
Leaf has been tasked by the Goddess with saving a Twin Soul (a person & animal). This Twin Soul is very important he is the
Alpha of the Shiroz Pride and was taken by slavers.
Mir who's Twin Soul is a white tiger knows instantly that Leaf is his mate. But convincing her will be a task in its self. Knowing
that a Twin Soul and a Shadow are not compatible, Mir plans to defy all odds and make Leaf his mate. Of course, the Goddess has other plans for them and Mir and Leaf encounter obstacles that they must overcome to get them back to his pride.
Ann Mayburn takes us on a magical and intriguing intense ride. With
lust, passion, love and of course it wouldn't be an Ann Mayburn book if it didn't have the very best very hot sex scenes. I loved
Mir and Leaf with their sassy, sarcastic, and sexy banter they were perfect for each other. The ending was perfect and i would love to read more about this world.
I couldn't put Turning Leaf down! If you haven't read any of Ann Mayburn's books i would highly recommend
all of her books.
With over forty published books, Ann is Queen of the Castle to her husband and three sons in the mountains of West Virginia. In her past lives she's been an Import Broker, a Communications Specialist, a US Navy Civilian Contractor, a Bartender/Waitress, and an actor at the Michigan Renaissance Festival. She also spent a summer touring with the Grateful Dead-though she will deny to her children that it ever happened. From a young Ann has had a love affair with books would read everything she could get her hands on. As Ann grew older, and her hormones kicked in, she discovered bodice ripping Fabio-esque romance novels. They were great at first, but she soon grew tired of the endless stories with a big wonderful emotional buildup to really short and crappy sex. Never a big fan of purple prose, throbbing spears of fleshy pleasure and wet honey pots make her giggle, she sought out books that gave the sex scenes in the story just as much detail and plot as everything else-without using cringe worthy euphemisms. This led her to the wonderful world of Erotic Romance, and she's never looked back. Now Ann spends her days trying to tune out cartoons playing in the background to get into her 'sexy space' and has accepted that her Muse has a severe case of ADD.